Item Count:
0
Sub-Total:
$0.00
Please enter search criteria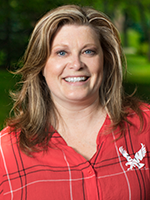 Lynn Junge
Merchandise Manager / Assistant Director
Lynn Junge graduated from EWU in 1997 with a dual degree in Marketing and Administrative Office Management. She started working with the Eagle Store in 1996 as a student intern, then shifted her roles into a cashier until she was hired full time as the Marketing Coordinator in 1998. Over the years, Lynn took on more buying duties and evolved into the buyer for all the EWU Clothing and Gifts sold at the store. Currently, Lynn is the Assistant Director/Merchandise Manager and is still the buyer of all the EWU Clothing and Gifts. She is always on the lookout for the next best clothing trend or tailgating gift accessory to accommodate our customers. Outside of EWU, she has a daughter, enjoys cooking and spending time with the family.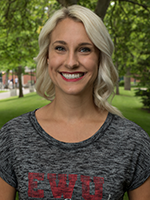 Kristin Zitterkopf
Marketing Coordinator
Kristin Zitterkopf (better known as KP) graduated from EWU with her Bachelors in Business/Marketing in 2010 and earned her MBA from EWU in 2017. Kristin is a proud Eagle fan and local Spokane Valley native (Go CV Bears!). During her undergrad studies Kristin was a student worker who returned to the Eagle Store full-time in 2012, and has loved being an active promoter of everything Eastern. She is the bags and accessories buyer for the Eagle Store and loves receiving input from fans about merchandise. She's your go-to gal for anything marketing, promotional, sponsorship, and just overall FUN! Kristin and her husband Clint met at EWU and are the proud parents of two cats, Simba & Ellie. She loves coffee, hiking and being around her friends/family!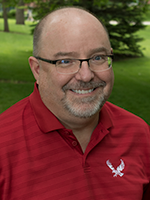 John Austin
Textbook Associate
John Austin graduated from EWU in 1982 and after managing a Bookstore and working other jobs, applied to and was hired by the EWU Eagle Store in 2000. He manages all online merchandise orders and maintains all the EWU swag pages on this site. He also maintains the Electronics/Computer accessories department in the store, as well as the ordering for all the Stewart Scholarship books each Quarter. He also helps out in Textbooks during Rush. John enjoys photography and trips to National Parks. Come say hi!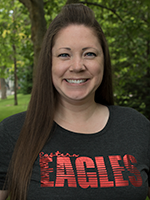 Kait Reisenauer
Textbook Lead
Kait Reisenauer is our Textbook Lead, a position she's held for over a year. Kait began her career at the Eagle Store in 2015 after stints with Spokane Teacher's Credit Union and other banking institutions. Kait attended Spokane Falls Community College. She was born and raised here in Cheney, Washington. Kait is married to husband Joby and has two sons, ages 2 and 4. She enjoys working on her family's new home and property, and is an avid outdoor enthusiast.
2019 Eastern Washington University |